"In all my years of practicing law, this is the most disgusting thing I have ever seen a judge do." (Senior Ontario lawyer writes to Donald Best after examining the evidence filed against Justice J. Bryan Shaughnessy.)
"It is obvious that, as previously documented by the news media in other cases, the Canadian Judicial Council is delaying and drawing out the process to enable a subject judge to wind down their caseload and retire without an investigation and resolution.
This CJC cover-up strategy is not in the public interest. Therefore, I have decided to 'go public' with the details of the complaint about Justice Shaughnessy's serious misconduct, and will do so on February 9, 2016." (Donald Best in a February 4, 2016 letter to Mr. Norman Sabourin, Executive Director, Canadian Judicial Council)
The Canadian Judicial Council is investigating Ontario Superior Court Judge J. Bryan Shaughnessy for serious misconduct involving the illegal and secret substitution of a court order; made in secret and off the court record in a deliberate, vindictive and premeditated extra-judicial abuse of his position and authority.
On May 3, 2013 after court had finished and I had been sentenced and taken into custody, Justice Shaughnessy then went to a backroom where he secretly increased my prison sentence, without a hearing, without informing me as a self-represented litigant, and arranged everything so I would not discover the increased sentence until told by the prison staff at some unknown time in the future.
It is a given that Justice Shaughnessy would not have committed this misconduct had I been represented by a lawyer, but as a self-represented litigant I was vulnerable and defenseless against his abuse of power.
I wrote about Justice Shaughnessy's actions in a December 2, 2015 article published on my website, and included copies of Justice Shaughnessy's original January 15, 2010 Warrant of Committal and his secretly substituted May 3, 2013 order that increased my jail sentence by a month without informing me.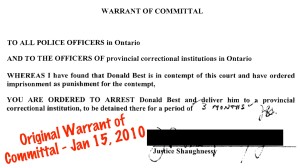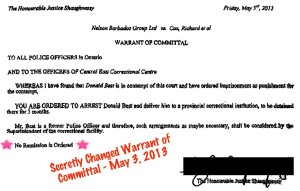 (click photos to see full size*)
I made a formal complaint to the Canadian Judicial Council, the organization mandated to investigate misconduct by federally appointed judges, however it appears that the organization is 'going slow' in its investigation of Justice Shaughnessy in an obvious strategy to enable a subject judge to wind down their caseload and retire without an investigation and resolution.
This is not in the public interest and I have therefore decided to publish the complaint, all supporting evidence and my communications with the CJC so that Canadians can have transparency and be able to discuss this and similar incidents of serious judicial misconduct.
February 4, 2016 letter to CJC Director Norman Sabourin    Read more